Happy Valentines Day! I'm back and SO happy to be here! Again, I'm Mariel. I previously did a post on
Rekindling the Romance
in you marriage, here on this blog. Along with my lovely cousin, Jessica, we author the blog
"Or so she says..."
found at
http://www.oneshetwoshe.com/
. That's me, up there on the right, Jess on the left. If you haven't been by our blog,
you must
. It's our favorite blog
ever
(big grin)
, easily followed by Love Actually
(bigger grin)
. It's updated
every single day
with a new idea for women: parenting, marriage, recipes, fitness, crafts, you name it! We have guest bloggers regularly share THEIR fabulous ideas too...so, you never know...it might soon be you! Actually, if you come by today, you will find Cher posting on
our blog
!
To the point...One of my favorite things to do with my Beard Man is to get the rascals to bed, slip into a hot tub, and grill him with endless deep questions, like
these
,
these
, and
these
. It's a fun time to get to know him better. I can't say he loves answering my endless questions, but I sure don't love being fondled by his foot in the tub, either. So, it's all fair.
Anyway, I recently posted some fun recipes to turn your boring bath into a yummy experience! Here you go...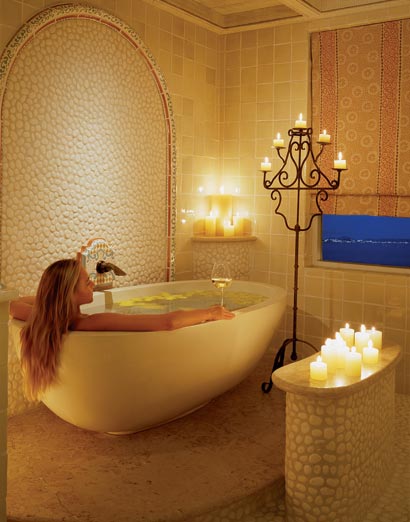 It's very rare that I slip into a bath...by the time I get the kids in bed, all I want to do is crash. But, I should do it more, I love baths. Baths in the dark, yum. Relaxing. I actually feel relaxed just
thinking
about it! Since you love when I divulge personal information, I'll have you know that I can't put anything extra in my baths...unless, I want a serious bladder infection. Oh, but how I want to! I would love to soak up some luscious oils and smell of rose petals, but no. I would be squealing in horrible discomfort and doing the pee-pee dance for hours afterward...until I got my antibiotics. Not worth it. I guess I'll just smell like water instead. But, that doesn't mean that you shouldn't smell like heaven and feel softer than a bunny....so, here are some easy recipes that you can make yourself! Better yet, bottle them for yourself AND for gifts!
Relaxing Pink
(Pink has proven to be a relaxing color...so, it makes perfect sense to add it to your bath!)
1 cup witch hazel
3-5 hibiscus tea bags
2 cups kosher salt
Blend witch hazel with 1 cup hot water. Place the tea bags in the solution and brew for at least 20 minutes...creating pink water. Add a few spoonfuls of the colored liquid to the sald and blend until the color is evenly distributed. Pour the pink salt under the streaming water of your bath.
Mint Bath Bombs
(refreshes the skin and senses)
1 cup baking soda
1 cup citric acid (find at health food stores)
1/2 cup cornstarch
1/2 cup light oil (canola, sunflower, or almond)
2 - 4 TBS chopped mint (can get from mint tea bags)
2 muffin tins or ice cube trays
Stir all ingredients until they form a crumbly dough. Pack the mixture into the tins. Let the bath bombs set overnight. Tap the bottom of the tray to remove bombs; let air dry. Use anytime by plopping one or two into a tub of warm water; store the rest in a resealable plastic bag; they'll keep indefinitely.
For another Bath Bomb Recipe and picture tutorial,
click here
.
Oatmeal Cookie Bath
1 cup rolled oats (exfoliates)
1/2 cup baking soda
1/2 tsp. ground cinnamon
1 TBS. vanilla extract
Blend ingredients in a blender until smooth, similar to flour. Pour under water and relax!
Bath Salts
(Can be made into any scent you choose!)
Heaping 1/4 cup Epsom salt
Heaping 1/8 cup sea salt
1/8 to 1/4 tsp. liquid glycerin
Essential Oil (your choice of scent), about 4 drops (more or less...your choice, again :))
Food Coloring to desired color (1-2 drops?)
Mix all together and bottle. Easy!
Hand & Foot Scrub
Heaping 1/3 cup fine white sugar
Heaping 1/8 cup sea salt
1/8 cup mineral oil
Essential oil drops to desired smell (about 4)
Food coloring to desired color (1-2)
Mix all together, bottle. To use, put a bit of scrub on hands and feet and add a little water. Rub, rinse, dry, and lotion.
I've made the last couple recipes several times and bottled them for gifts. Once you have the ingredients, it literally takes just minutes to whip up! You can find corked bottles and jars of all different sizes and shapes for under a dollar, I got mine at
Sunburst Bottles.
Autumn Leah Designs
makes tons and tons of darling labels!
You can also download and make your own labels with Martha Stewarts help...
see here
.
- Need the perfect, romantic book to read in the tub?? Click here.
- Relax in the tub with some of Jessica's favorite love songs, here.
- Some favorite robes and slippers for when you get out, here.
- Can't bring yourself to share the bathroom with your man, no less the tub?? See here.
Have so much fun!